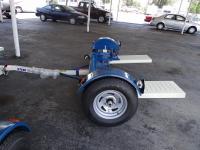 The Stehl Tow Model ST80TD will haul small, medium and large cars, trucks and vans.
We use E/Z Lube Hubs, eliminating the need for disassembly of the wheel bearing for repacking.
Stehl fenders are steel with 3 steel support braces.
Stehl uses a factory molded, plug together wiring harness.
Stehl uses a powder-coated paint that is the most durable finish on the market. This paint is second to none and keeps your dolly looking good long after you buy it.
All of our dollies come with a 1-year factory warranty*. A warranty card is included with the owner's manual provided with each dolly.
Stehl carries Product Liability Insurance on our Tow Dollies.  We will provide a certificate of insurance at your request.